While being pregnant can oftentimes be an uncomfortable experience, pregnancy still is one of the most beautiful stage of a woman's life. From the first day to the very end days of pregnancy, you want to capture every moment of it. Maternity is an experience that glorifies womanhood. Being a mom is an experience that woman find very thrilling and beautiful. That is why capturing every moment of becoming a mother needs to be cherished. Nowadays people want their memories to be portrayed via cameras so that they can cherish those beautiful moments for the rest of their lives. When we talk about an experience as noble as becoming a mother every memory that turns into a picture will be a very important part of the mother's journey through the nine months and her life ahead. Maternity photoshoots not just serve as a great flashback for the mom and dad to be but also for the baby when he/she grows up. InfLens is a team of creative photographers who know how to photograph every detail. We know how to capture this beautiful phase in the most elegant manner. More than just a beautiful phase, this is the only time when you do not complain about being fat. So cherish this fatty phase and get yourself clicked in different ways by InfLens.
Posing can be tough for some pregnant ladies. If this is your first time you might get confused and end up wasting time on poses that you don't want. Here are some poses that never go wrong. So get yourself clicked cause you're pregnant and fabulous.
1: Front View
This is the most basic pose but super classy. It shows your big baby bump, naturally glowing skin and pretty hair falling down on your shoulders. This is the first pose you can go for as it is very easy and if you're camera conscious, you can also easily do it, there is no chaos. It makes you look effortlessly gorgeous. Minimalistic make up and a flowy gown will make you look fabulous. A pose your maternity photo album has to have.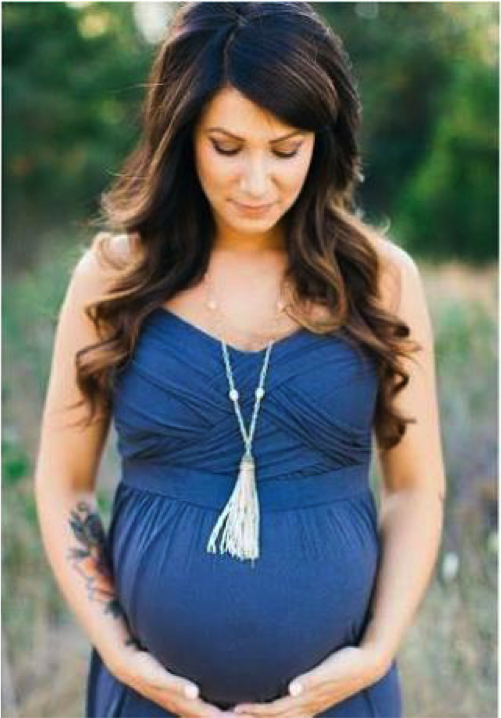 2: Lying down
Lie down on your back and show your flattering bump. The beauty of this pose is that it looks natural and not made up. You can lie down on grass or on your bed but don't forget to put silk linen bedsheets on the bed. Backgrounds can easily spoil the photo. So with poses do concentrate on the background too. You can ask the photographer to click a picture from side or from above, directly look into the camera and smile for the perfect shot. Don't tilt your head at a completely weird angle, just look sideways or above.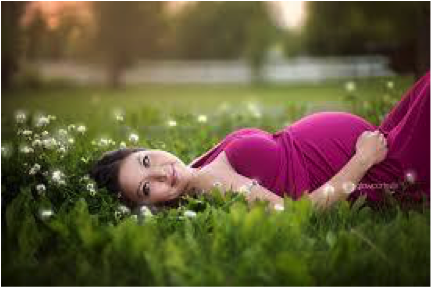 3: Close up
Pregnancy is all about that baby bump and how can you just not have a picture of your belly. Either sideways or from front, your choice any angle will be perfect. You can stand or even sit crossed legs for this mesmerizing pose. A picture where the focus is just on the bump is necessary. You can add fun by adding props to it like tie your belly with a ribbon or put a toy car on the top of your bump. Get a picture clicked while touching the bump, it portrays how careful and protracted you already are for the baby.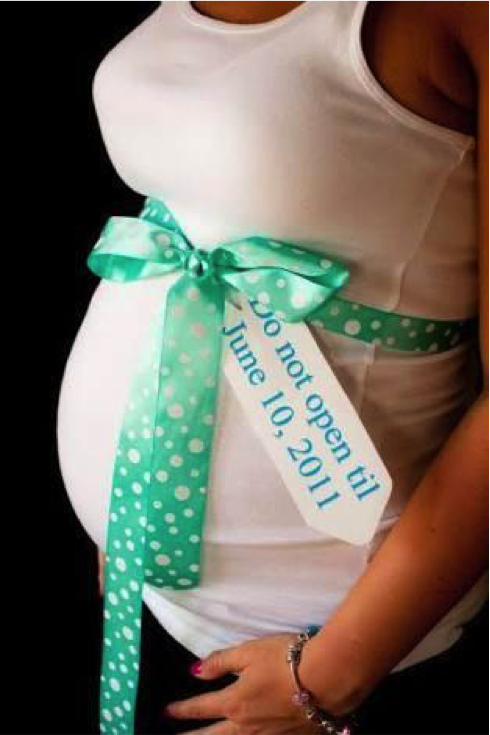 4: Peek-a-boo
Hide behind a tree, door or wall and just show your face or belly for the cutest picture in your album. If you show your face then directly look into the camera and tell the photographer to stand a few meters away so you can get the background also. Give intense expressions and keep the make up neutral.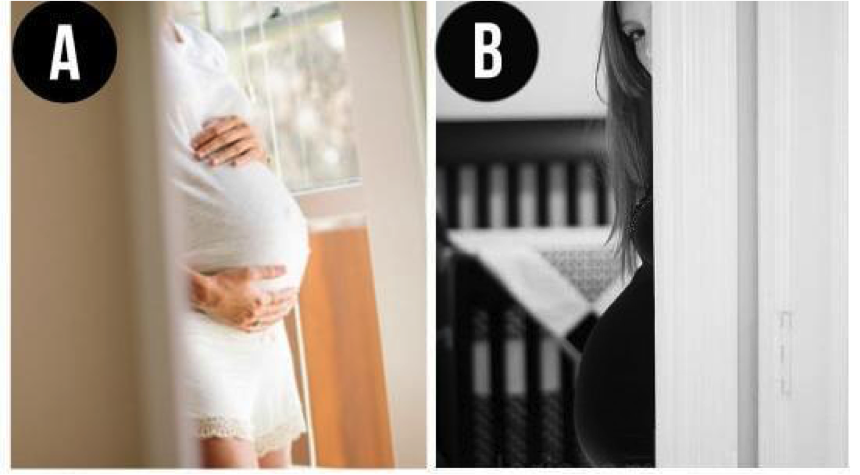 5: Sitting
Standing is almost always more flattering for pregnant women, but you still want a relaxed picture. Bend a knee or pop a hip to not look weird. Just be extra aware of your angles. Sitting pose can even add variations to your shoot as all your poses will be while standing. Tell the photographer to take the picture from top angle so you can either look down at the baby bump or above directly into the camera. You can experiment with expressions in this pose.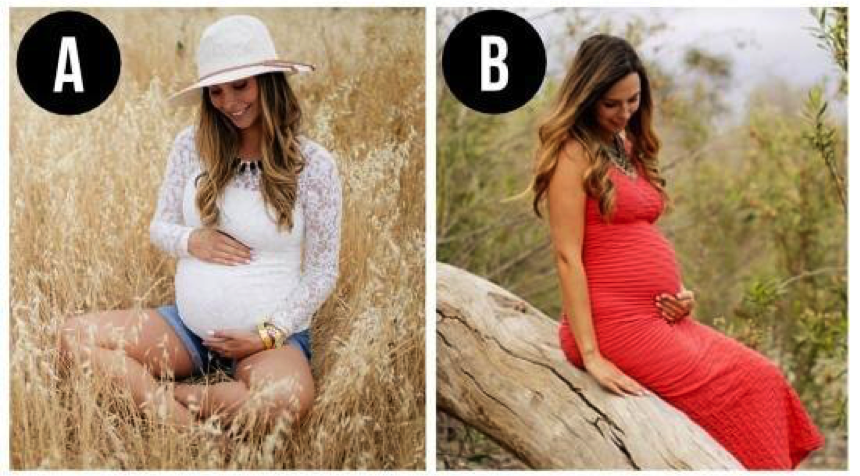 6: Keep it Natural
When you looks down at your belly, make sure your head isn't completely tilted at a weird angle…it can look unnatural and create a double chin. Don't forget eye contact and with a smile…everyone loves a classic shot like that. Vary expressions from laughter to more intense. Nothing can beat a going to be mother's natural beauty. Be you as simple as that and you'll get a magical photograph.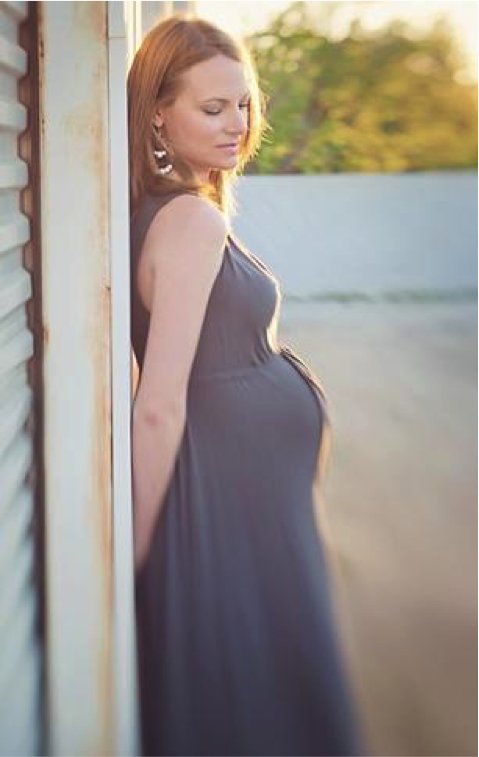 7: Hands on Belly
Can any maternity photoshoot happen without this pose? Hands on belly is the cutest pose, it shows the love and care of the mother to be for her child. Just keep your hands on the belly and look at down at the bump, there you have your perfect click. It's very natural of a mother to keep her hands on the belly. It draws attention towards your belly, where you want everyone's focus to be.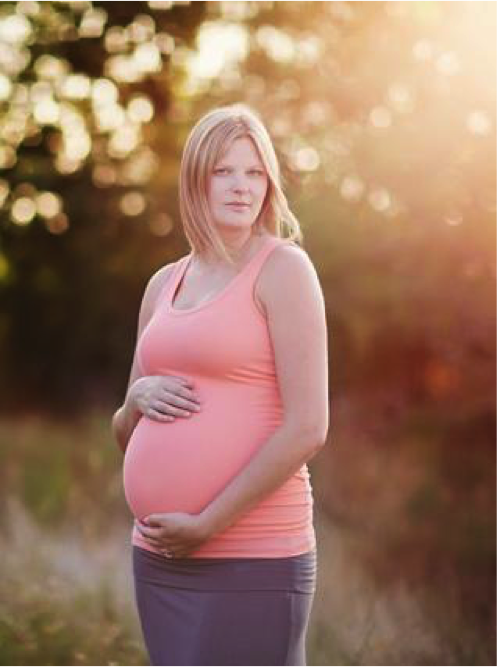 8: The Diva
During pregnancy, you always wear lose fitted clothes but ditch them for your shoot. Be a diva for the day. Wear your sexy short fitted dress, heels and do tons of make up and pose like a supermodel for glamourous pictures. Play with composition, colours and angles. Bring out your inner model and pose as if you're going to be on the front cover of Vogue magazine.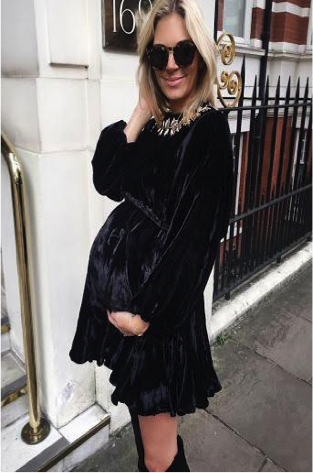 9: Fun pose
Get over with those boring sitting and standing poses. Do something out of the box! Try different and funny poses like roll your eyes or take out your tongue. You can even use props for this one like balloons or toys. Wear a shirt with some cartoon character printed on it or maybe a shirt that says unwrap and then your due date. Offbeat poses are the new cute!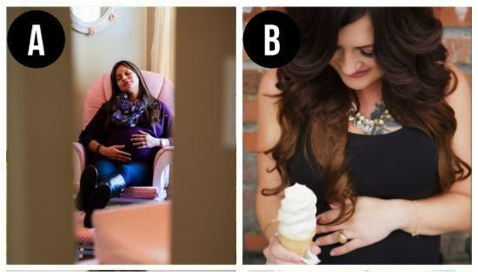 10: Silhouette
It is a wonderful way to convey drama, mystery, emotion and mood in a picture. Have your own dreamy Pinterest picture. You'll need to find a doorway or window that lets in a lot of light. The more light, the better. This makes your silhouette really pop against the background. There's something so beautiful about a silhouette photo.. especially when it comes to a big baby bump!